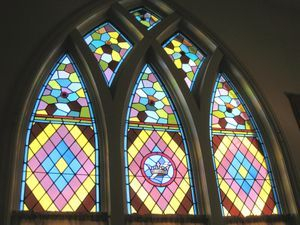 October 2021
ELYSBURG UNITED METHODIST CHURCH
171 West Center Street, P.O. Box 311, Elysburg, PA 17824
Pastor: Michelle Beissel
Pastor's Home 570-509-2108; Email: mbeissel@susumc.org
Church Office 570-672-2589; Email: elysburgumc@juno.com
Website: elysburgumchurch.faithlifesites.com
Facebook: www.facebook.com/elysburgumc
Times of Stress
Perhaps you can relate to feeling much stress these days. With the pandemic, racial unrest, political disagreements, personal stresses. Many of us feel the stress these days. Recently, one of my parenting groups on Facebook offered a strategy for remaining calm. (Which is the only thing that works for Timmy). It is really simple: SBA. Stop. Breathe. Anchor. I think that it can be used for so many parts of life.
Stop. Just stop what you are doing. Plant your feet on the floor, whether you are standing or sitting and move on to step 2.
Breathe. Breathe is simple. Breathe four counts in and four counts out and move on to step 3.
Anchor. Anchor means to find some calming vision or statement and repeat it to yourself. Bible verses work well for this. As examples you can use Philippians 4: 13 "I can do all things through Christ who strengthens me." or Psalm 46: 10 "Be still and know that I am God." Those verses are among my favorites and work well as anchors for me. Just state your anchor to yourself while you breathe with your feet fully planted and you will be calmer.
When we are calmer, life is much easier to handle. We don't put as much stress on ourselves because we understand that anything we have to do or anything we have to get through, we do it with the help of God.
It is also helpful to remember one simple truth: We can only control our own actions and reactions, We cannot control anyone else. There is no sense in even trying to control anyone else.
I have been trying this lately and it works really well in the moment, but it is also important to me and also for you to spend more time with God. Devotions, prayer, time spent with God not only taking, but also listening is very important for your life and well-being.
Today I want to offer you a gift in the form of a very familiar Bible passage. Please do this with me. Take five minutes right now for some time with God, and if you can't do it now, keep this newsletter and do it later.
Read this passage and just let the words and images wash over you.
Psalm 23
The Lord is my shepherd, I shall not want.
2 He makes me lie down in green pastures;
he leads me beside still waters;[a]
3 he restores my soul.[b]
He leads me in right paths[c]
for his name's sake.
4 Even though I walk through the darkest valley,[d]
I fear no evil;
for you are with me;
your rod and your staff—
they comfort me.
5 You prepare a table before me
in the presence of my enemies;
you anoint my head with oil;
my cup overflows.
6 Surely[e] goodness and mercy[f] shall follow me
all the days of my life,
and I shall dwell in the house of the Lord
my whole life long.[g]
Step 2: Read the passage again and this time pick out a word, phrase or image that stands out to you.
Step 3: Read the passage again and pick out a word, phrase or image that stands out. The same one or a different one then step 3. What message could God be trying to give you in that word, phrase or image?
Step 4: Say a brief prayer, thanking God for speaking to you today and asking God to guide you through your day or week or some particularly challenging circumstance that you have coming.
May God be with you always!
Pastor Michelle


Open hearts. . . Open minds. . . Open doors. . .
The people of the United Methodist Church
OUR MISSION:
Together We Celebrate, Grow and Serve;
Celebrating God's Grace,
Growing in Faith,
Serving God and Neighbor
While we are planning and scheduling events and activities, we do want you to know that we are weekly reviewing covid cases and may need to make changes to or cancel events and activities. Thank you for understanding!
Family and Friends Sunday is postponed until further notice.
Coffee Fellowship is canceled until further notice.
There are no in-person Sunday School lessons at this time.
The Sunday School Kick-Off Breakfast will be bagged breakfasts delivered to the kids at home on Oct. 3rd.
Special Collection for Flood Damage
The District Office has asked each church to take a collection for flood damage from this month's storms. Feel free to bring or mail your offering to the church now through
October 17th (we have extended the deadline). Please mark in the memo line that it is from the EPA Conference flood damage. Thank you for your help!
Elysburg Food Pantry
If you have extra plastic grocery bags you don't need, the Food Pantry could make use of them! The Food Pantry is open Thursdays from 10-11:30 a.m.
From August 26 thru September 16
the Food Pantry served:
74 families and 168 individuals
October Food Drive for the Elysburg Food Pantry
We will again be having an October Food Drive to help stock the shelves of the
Elysburg Food Pantry! All donations of non-perishable foods can be dropped off in the tote on the front porch of the church during the month of October.
If you would like to shop for specific items, the pantry could use the following:
spaghetti sauce, canned vegetables, canned fruit, peanut butter, jelly.
All donations are welcome!
There will be a Mid-Day (shortened) worship service with communion on Sunday,
October 3rd, at 1:00 p.m. . We realize a 9:00 a.m. service may not be convenient for everyone and hope this mid-day service may help!
(A decision will be made and announced as to whether these services will continue.)
But they who wait for the Lord shall renew their strength; they shall mount up with wings like eagles; they shall run and not be weary; they shall walk and not faint. ~ Isaiah 40:31
Pet Blessing
Pastor Michelle will have a Pet Blessing on Saturday, October 2nd, at 10:00 a.m. in the church parking lot.
All pets are welcome!
RADA Fundraiser Coming Soon!
We will have an online RADA fundraiser from November 1-15. The profit from the fundraiser will be used for loose change for the Sunday School. The kids and Pastor Michelle will decide where they would like to send the profit.
The online link for the fundraiser will be shared at the end of October and all sales will be online.
This is a great opportunity to start your Christmas shopping!
OPERATION CHRISTMAS CHILD
Will you be packing a box (or boxes) for Operation Christmas Child this year? If you haven't already started shopping for items to put in your shoe box, now is the time!
Shoe boxes need to be returned to the church no later than Nov. 8th.
You may also go online and "build a box". Visit www.samaritanspurse.org/buildabox .
Brochures and Operation Christmas Child shoe boxes are available in the social hall.
COMMUNITY SERVICE OF REMEMBRANCE
This year we will have a special Community Service of Remembrance for loved ones who have passed away from covid. The service will be held on Saturday, October 23, 10:00 a.m. in the church parking lot.
Upcoming Meetings
Prayer Circle: Wednesdays
Ad Board: Sunday, October 26, 6:00 p.m.
OCTOBER HAPPENINGS
Month of October Food Drive, tote on front porch of the church
October 2: 10:00 a.m. Pet Blessing
October 3, 10, 17, 24, 31: 9:00 a.m. Worship
October 3: Sunday School breakfasts delivered; 1:00 p.m. Mid Day Worship
October 5, 12, 19, 26: 9:45 a.m. Bible Study
October 7, 14, 21, 28: 10-11:30 a.m. Elysburg Food Pantry
October 23: 10:00 a.m. Community Service of Remembrance
October 24: 6:00 p.m. Ad Board meeting
Sunday, November 7th, we will have our All Saint's Sunday worship service with a time of remembrance of our loved ones who have passed away in the last year.
Sunday School
Due to the rise in covid cases, there will not be in-person Sunday School for now. As soon as we are ready to switch to in-person lessons, we will be in touch!
Sunday School Breakfast
The Sunday School Kick Off Breakfast didn't happen as it normally does, but it will happen! Pastor Michelle will be delivering bagged breakfasts to the kids on Sunday, Oct. 3rd. She will also be bringing pumpkins to give to each of the kids to paint for Halloween. :)
World Vision and Nay Gay
Below is the latest letter we received from Nay Gay. Please continue to pray for him and for his family.
9-6-2021
Dear Sponsor,
Thank you very much for your letter! May God bless you!
Where do you live? Where is your country? We are doing fine. How are you? We are praying for all of you to be in good health especially during covid period.
We celebrated Valentine's day well. It is hot here. I love to see the snows picture. Thank you for sharing with me.
With much love,
Nay Gay