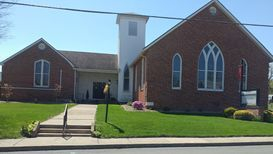 With COVID cases and hospitalizations rising, out of love for our neighbors and an abundance of caution, we have decided to worship via Zoom for the time being. You can find the gospel and sermon link on our Facebook page.
We will continue to monitor the situation and hope to be able to meet in person again soon.
Thank you for your understanding!
If you have any questions or needs, please contact us via email at:
elysburgumc@juno.com or by phone at: 570-672-2589.
____________________________
Open Hearts. Open Minds. Open Doors. The People of the United Methodist Church.
Elysburg United Methodist Church was established over 150 years ago and continues to serve our community. We are a congregation made up of people of all ages and backgrounds. We warmly invite you to join us for our community oriented worship service. Our worship is traditional, yet we allow the spirit to move us.
Our Mission
Together we celebrate, grow and serve;
Celebrating God's grace,
Growing in faith,
Serving God and neighbor.
We gather together to worship the Father, the Son and the Holy Spirit. Please join us!
Sunday Worship via Zoom: 9:00 a.m.
Sunday School: Sunday School lessons are being emailed --
please contact us if you would like the lesson emailed to your child
Bible Study via Zoom: 9:45 a.m. Tuesdays
Reverend Michelle Beissel, Pastor
Elysburg United Methodist Church
P. O. Box 311
171 West Center Street
Elysburg, PA 17824
570-672-2589
elysburgumc@juno.com